A company with values
CaixaBank strives to create sustained value for its stakeholders and it works in line with its corporate values: quality, trust and social commitment.
CaixaBank bases its management on responsible actions and economic efficiency, with the willing commitment to the socioeconomic development of the people and the region, a shared commitment with the "la Caixa" Group.
Only the long-term business view, good corporate governance and sustainable and responsible action can secure the future and success of organizations, which have to respond honestly to all its stakeholders:customers, employees, shareholders and society as a whole.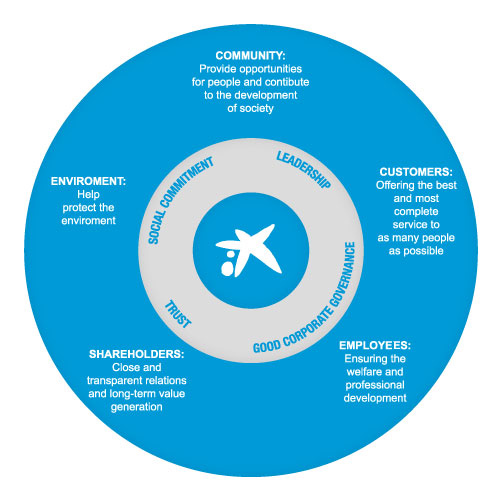 ---
We work to create shared value
Its commitment to sustainable operations, which have to contribute added value to CaixaBank and to its stakeholders, includes the Group's whole chain of value, from the origin of its funds and resources to their application and investment.
Thus, to decide on management strategies, the following are taken into consideration:
The economic and financial aspects of its business.
Responsibility towards the environment.
Customer satisfaction.
Value creation for shareholders.
The needs and aspirations of its employees.
Relationships with suppliers and collaborators.
Its effects on the communities and places where it is present.